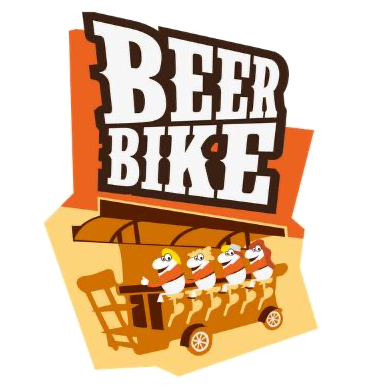 Amsterdam Beer Bike
BBF! (Beer Bike Fun!)
Duration: 75 minutes.
Fitted out for comfort, enriched with liters of beer, and accompanied by a friendly guide: the Beer Bike of DamTours has everything to kick off your party! Cheers together to a fun afternoon in the beautiful center of Amsterdam while you let the guide show you the way.
If Amsterdam is known for something, it is the infamous bike. Combining laughter, drinks, and open-air, DamTours has been offering this unique Amsterdam experience for years for almost every possible occasion.
Our guides know all the streets of Amsterdam and will map out the best route for you, right through the blossoming area of Sloterdijk. For those of you who are interested, the guide can also tell you everything you want to know about Amsterdam. And don't worry: our cycling guides will stay sober at all times so you and your party can enjoy yourselves undisturbed!
Unlimited drinking and unlimited fun!
No matter how big or small your group is, DamTours' beer bikes have already seen every possible group size, so even with impossibly big groups, we have a solution. You also don't have to worry about a shortage of beer or other drinks, because the beer bikes do not only carry lots of fun with them but also (way too much) beer and drinks. An empty glass is something we'll make sure you won't see very often during the tour!
Are you looking for other festive activities in Amsterdam? DamTours offers many more activities on the bikes, on the water or in the city center. Take a look at our activities page for many more fun days out. For every occasion, you can contact us!
Great fun
We travelled as a group of 16 ladies for a special birthday. We went on the proscecco bike ride with stripper included at the end. Well where do we start???? 16 ladies squashed onto a 15 seater bike, we rode 100 yards and got a puncture!!!! No problem David Reid our sober driver sorted problem. We was transferred onto another bike with no canopy! The clouds were very dark and rain imminent! Never the less us ladies were in good spirits and a belly full of fizz!! As we pedalled hard onwards it was becoming clear that we were holding up the traffic and clearly the bike wasn't working properly!! The battery went flat… but with stiff upper lip we cheered each other on and waited for a new battery. David was an absolute gem he remained professional and made us ladies giggle whilst waiting for the new battery. What should've been a 2 hour bike ride, I think we actually rode for a whole 20minutes due to mechanical failures and punctures!! Regardless of all the issues we still had an amazing time and enjoyed every minute, we all put this down to the effort and professionalism of David Reid!!
We then moved onto a pub for the stripper!! What can I say? He was brilliant and made 16 ladies smile 😊
Thank you Damtours and a special thanks to David and the Stripper (didn't get his name)
What a laugh!
16 women on a 15 seater bike what could possibly go wrong!Flat tyre 100yrds down the road that's what! Exchange of bike and off we go again Lots of prosecco lots of laughs and lots of "Get peddling". David Reid the sober driver fitted in well and what an amaizing host he was. Holding up traffic because we couldn't peddle hard enough after a flat battery so again had to wait for help! More time to drink and laugh. A fantastic time had by all and we still laugh about it now. Thanks again hope to do it again and see a bit more of Amsterdam next time.
Everything was amaaaaazing
Super cool guy 🙂 Donny was Amazing. The bike Tour was real fun. Hope to make this Tour again. We liked it.
Great way to travel around Amsterdam
A group of 8 of us took this tour. We were very well looked after by our host who was more than happy to tell us us about the area and places we passed on the boat. As the weather was a little cold and damp, there was coverage if needed and also blankets to keep us warm if needed. Beverages provided were plentiful and definitely kept the chills out. Would definitely recommend the trip.
Really great trip
Nice Guys, interesting Background information of amsterdam and funny Stories and – of course – endless Drinks and tasty food.
Eversbody coming to Amsterdam should so this!
1
Make a choise, share-a-bike or book for a private group.
3
Come to the meeting point in Amsterdam and have fun!
Price
The price indicated is the price per person for going on to Amsterdam Beer Bike. Groups of 5 – 60 people are welcome. For a tiny fee, we can add a pretty young waitress to join you.
All rides include
90 minutes Beer Bike Fun
5 premium ice-cold beers per person. Prosecco or Cider as an option
Sober English speaking guide/driver
Built-in quality sound system with Bluetooth
Easy to pedal with comfy seats
Great way to exercise and sip the best beer around.
Contact us
We are happy to help you with all your questions. Fill in the contact form below and we will contact you as soon as possible.
"*" indicates required fields